Download Xanadu
Before you start downloading your free copy of Xanadu p lease visit our FAQ page.
click to download
(xanadusetup.exe, 2.2 MB, v1.02.07 - May 2007)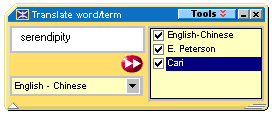 After completed installation you will be able to choose one of four user interface languages: English, German, French, Spanish, Italian or Portuguese.
---
System requirements
Xanadu runs on all Windows PCs (98, 2000, ME or NT4-SP3, XP) on which Microsoft Explorer (version 4 or higher) is installed. Of course, you will be able to continue using your preferred browser, be it Netscape, Opera, etc. On some Windows 95 versions Xanadu may not work properly.
Installation
The file you are going to download is a self-extracting installation program. Simply click on the link above and download the file to your harddisk. Once the download is finished double click on the file and follow the instructions.
On Windows NT or XP log in as a user with administrative privileges for installation.
Uninstalling
To uninstall Xanadu, select the Add/Remove Programs icon in the Windows Control Panel, highlight Xanadu and click Remove.
Any questions?
Please send your questions or comments by e-mail to support@foreignword.biz or submit them at our feedback form at your feedback.