Translating web pages without the hassle
If you have already translated HTML files you will probably know how difficult it is to find an HTML editor which is well-adapted to the translation work. Your client will accept no excuses if the layout of your translation is not exactly the same as that of the original document.
Life would be so much easier if translating web pages was as easy as translating any other document.
Web translation made easy
With Glossy you translate web pages right within Microsoft Word and without all the hassle... It even counts the number of words or characters to translate!
The following diagram shows you how all this is possible: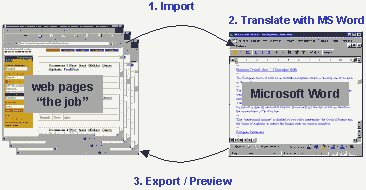 And this is how it works:
1. Open Microsoft Word and choose the Import Web Page function. Glossy will now analyse the web page and automatically identify all the bits and pieces of text that require translation.
2. The result is a normal Word document containing all translatable texts. Simply translate one segment after the other. You want to use the MS Word spellchecker? No problem, you are working with a Word document!
3. At any time you may preview the results in your browser. This is very handy when you want to understand the context in which text appears on screen.
Once you have finished your translation Glossy creates the final HTML page (export).
With Glossy your translations will always be properly formatted. No more technical problems!
Languages, languages
With Glossy you translate from English into Japanese, from Chinese into Arabic... Any language your PC supports is supported by Glossy as well.
Pages can be easily previewed in the browser at any time during the translation process.
Not yet convinced?
Read on to learn more about Glossy features or browse the " hands on" samples.